Traphaco continues to be honored as the most prestigious Vietnamese Herbal Pharmaceutical Company in 2022
On January 5th, 2023, Traphaco Joint Stock Company was honored to receive the award of Top 10 Pharmacy Reputation Award 2022, Top 5 Herbal Pharmaceutical Reputation Award 2022. The information was previously announced on November 24, 2022. by Vietnam Report Joint Stock Company (Vietnam Report). This year, Traphaco is honored for the third time in a row that ranked at Number 1 in the group of Herbal pharmaceutical companies, while maintaining its position in the top of pharmaceutical manufacturing companies. This result has confirmed the financial capacity, media credibility, and the trust of stakeholders and the social community for Traphaco in 2022, a year with many difficulties and challenges.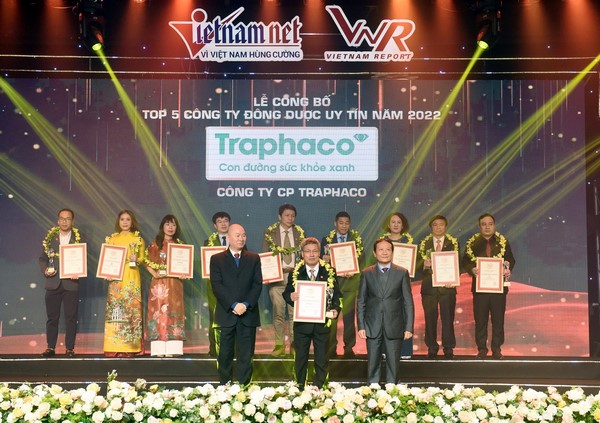 Mr. Nguyen Huy Van – Chief of R&D Officer of Traphaco Joint Stock Company, representative of the enterprise to receive the certificate
The Top 10 prestigious pharmaceutical companies ranking in 2022 is an independent and objective research result of Vietnam Report, which has been published annually since 2016. The results are built on scientific and objective principles. Companies are evaluated and ranked based on 3 main criterias: (1) Financial capacity shown in the latest year's financial statements; (2) Media credibility is assessed by Media Coding method - encoding press data, articles about the company on influential media channels; (3) Survey of related subjects was carried out in October-November 2022.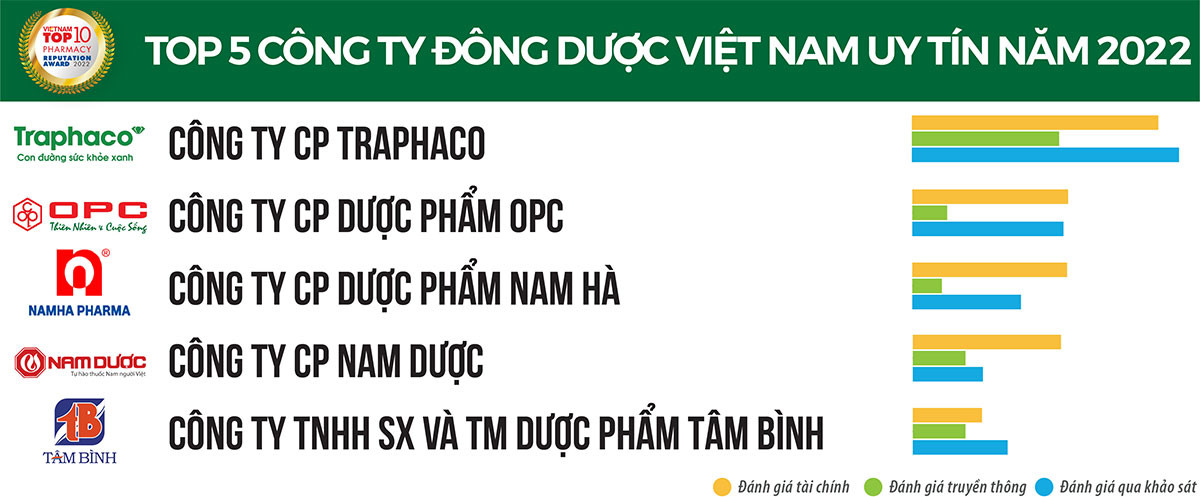 List of Top 5 Herbal Pharmaceutical Companies Reputation Awards 2022
This award means a lot to Traphaco's leadership and staff, especially on the occasion of the company's 50th anniversary. Formerly a small drug production group of the Railway Medical Company, established on November 28th, 1972, experiencing many difficulties and struggles to survive and develop, generations of Traphaco leaders and employees knew how to take advantage of opportunities, overcome difficulties, constantly innovate and bravely breakthrough to step up, making Traphaco one of the leading enterprises in the pharmaceutical industry in Vietnam, especially in terms of Brand, on extensive distribution system and medicinal products from medicinal herbs.
In the Herbal phamaceutical segment, Traphaco has set the record of the "First pharmaceutical company to modernize traditional medicines and have 3 best-selling Herbal medicine product lines in Vietnam (Boganic, Hoat Huyet Duong Nao and Tottri)". The company is a pioneer in developing areas for growing and harvesting medicinal herbs that meet GACP-WHO international standards, ensuring clean, safe raw materials, high phamaceutical content, combined with extraction and modern pharmaceutical production technology, creating many products of Herbal medicine - the medicine with high quality, effective treatment, becoming a national brand product.
The double wave strategy of Herbal medicine – Non Herbal medicine that Traphaco embarked on vigorously implementing since 2021 has brought spectacular results. In 2022, continuing the growth momentum from previous years, revenue reached more than 2,300 billion, an increase of 17% compared to 2021, profit before tax reached about 400 billion, annual dividend of 30% annually, ensuring life material and spiritual life of the company's employees and actively participate in other social activities, contributing to the economic and social development of the locality, industry and country.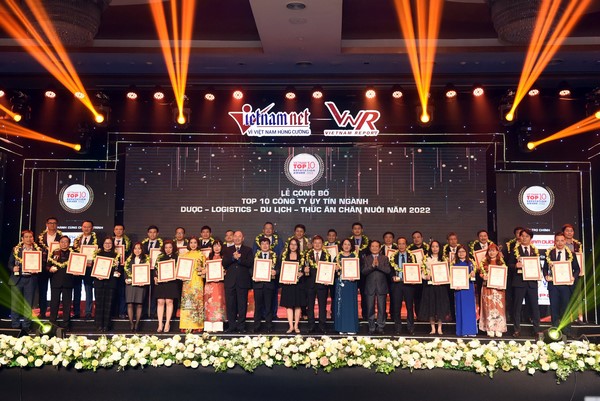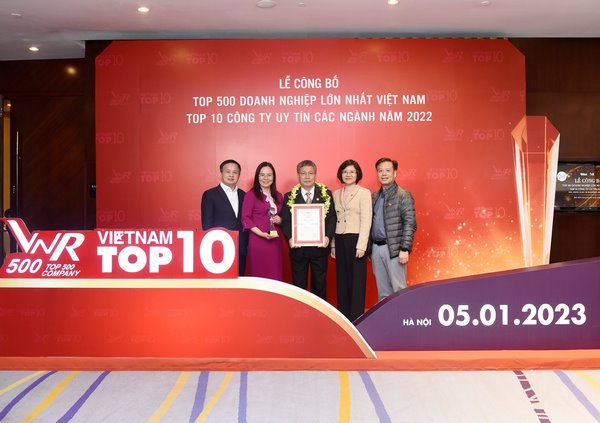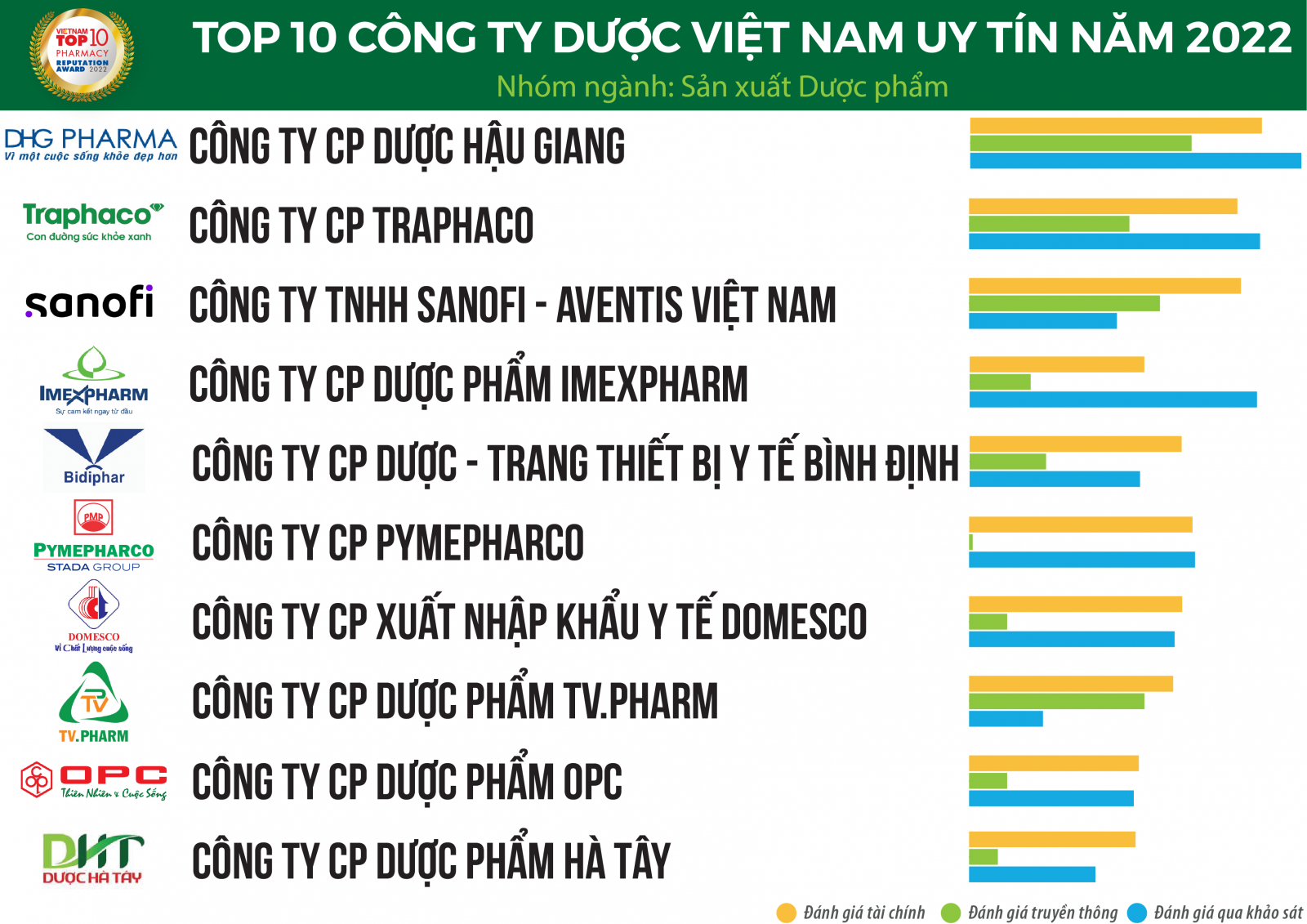 List of Top 10 Pharmaceutical Companies Reputation Awards 2022
(Source: https://vietnamreport.net.vn/Top-10-Cong-ty-Duoc-uy-tin-nam-2022-10437-1006.html)