Traphaco introduces new product: Boganic Herbal Tea Drink
With more than 20 years of trust and always ranked number 1 in the bile market, Traphaco Boganic helps strengthen detoxification and liver protection for many generations of Vietnamese people; win customers' trust thanks to the quality and efficiency of their products.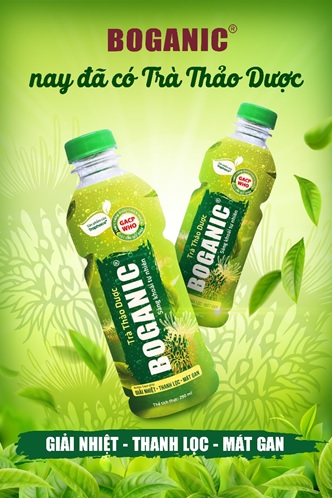 For the first time, Boganic Herbal Tea was developed in Traphaco form of bottled water and introduced to the market to meet the needs of improving health, refreshments and convenience for users.
After market research and product development, along with the advantages of clear origin and long-standing reputable brand, Traphaco has launched Boganic Herbal Tea, creating a breakthrough and continuous improvement. Traphaco's products, with the desire to bring health, safety and convenience to consumers across the country.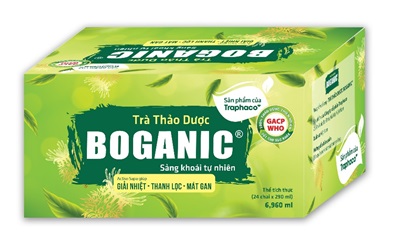 Boganic Herbal Tea with a sweet taste, natural honey flavor, extracted from the fresh green Sapa artichoke leaves, Bitter greens, Calamari 100% natural herbal GACP-WHO standard helps cool, purify, cool liver. Drinking Boganic Herbal Tea daily brings a natural refreshing feeling, good for health.
Applying modern technology in research and production, Boganic Herbal Tea brings consumers the most quintessence of a healthy beverage product, contributing to affirming Traphaco green pharmaceutical brand for health. healthy human.
Infomation:
Food supplement - BOGANIC HERBAL TEA
Ingredient:
Water, sugar, artichoke sapa (20 g / l), fructose, ground bitter vegetables (600 mg / l), preservative (202), stabilizer (415), black tea powder, pure caramel color (150a) , Calamari (150 mg / l), acidity regulator (296), natural honey flavor.
The average nutritional value in 100 ml:
Energy: 22 kCal
Carbohydrates: 5.5 g
User manual:
Softly shake before drinking. More delicious cold drink.
For adults and children over 4 years old. Adults drink no more than 6 bottles, children drink no more than 4 bottles a day.
Storage instructions:
Preserving a cool dry place, avoid sunlight.
Products made from natural herbs, sediment can occur but does not affect product quality.
HSCB number: 001 / TRA / 2020
Products of: Traphaco Joint Stock Company - 75 Yen Ninh, Ba Dinh, Hanoi, Vietnam.
Made in Viet Nam