2019 extraordinary General Meeting of Shareholders
In the morning of September 26th, 2019, Traphaco JSC holds the extraordinary General Meeting of Shareholders. The meeting takes place with 02 main contents: Elect 01 additional Board member and approve the adjustment of production and business plan in 2019
Additional election of Mr. Ji Chang Won - representative of Daewoong as a member of the Board of Directors. Mr. Ji Chang Won, a Korean citizenship, has worked in South Korean pharmaceutical corporations such as LG, Saehan, Schering Co., Ltd, JW ... and currently is the Production Manager of the Daewoong Pharmaceutical Co., Ltd, South Korea.
At the meeting, Mr. Tran Tuc Ma - CEO of Traphaco JSC reports the implementation of the production and business plan in the first 6 months of 2019. According to the IMS report in Q2 the OTC market - the main channel of the Company grows slightly (+ 0.3%) compared to the same period in the previous year, and decreases 1,9% compared to previous quarter (+2,2% in Q1 2019) Products with strong brands grow by 3%, products in other groups hardly grow, leading to the overall growth of the OTC market being in stagnated condition. Major listed pharmaceutical companies have not grown compared to the same period in 2018. Traphaco's consolidated revenue in the first 6 months of 2019 reached nearly VND 800 billion (100% compared to 2018), profit after tax reached VND 73 billion (increase 18% compared to 2018)
Besides, Traphaco has been implementing some activities in the first 6 months of 2019 such as:
The Company has developed the Implementation Plan for the Company and for each division. On the basis of the assigned plan, assign KPI and evaluate the level of completion, attach to the salary payment according to the approved plan, and KPI results.
Established a Hospital Sales Division and built solutions to promote sales on ETC channel.
The Company has innovated marketing approaches including: implementing point accumulation program for clients, creating positive effects of Increasing benefits - connecting clients; strengthening marketing activities at the point of sale; implementing integrated communication, diversifying advertising channels, adding new channels to synchronize with the point accumulation program and recognize brand at point of sales.
Issued Regulation on cost limit, established solutions to implement the limit including control solutions, assigned the responsibilities to divisions/units, throughout the Company's whole operation/activities.
Coordination with Daewong is in the transfering phase, at the same time, the Company is also actively negotiating with a number of major pharmaceutical companies in the world on product distribution, diversifying the imported-product portfolio of the Company.
The Meeting agrees and approves the adjustment of the production and business plan in 2019 and the full text of the extraordinary General Meeting of Shareholders 2019.
Some pictures: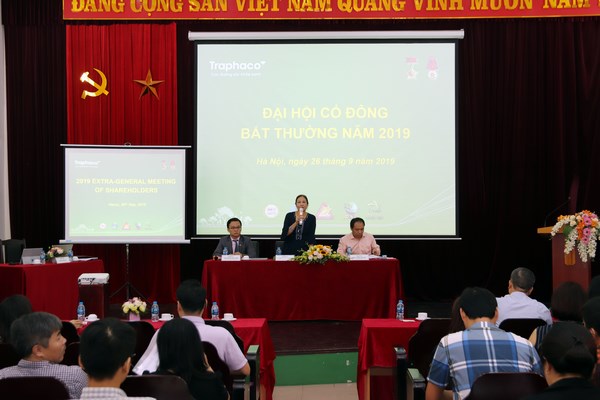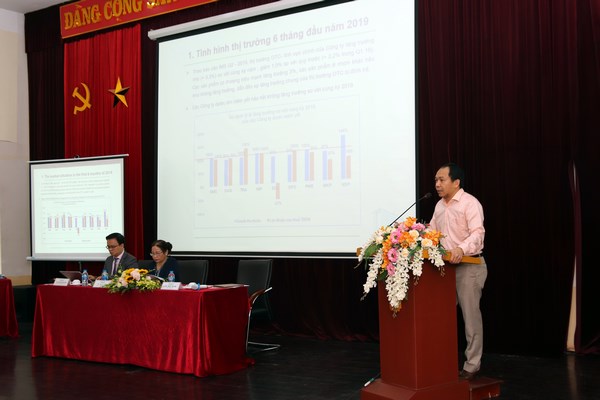 CEO Tran Tuc Ma reports the implementation of the production and business plan in the first 6 months of 2019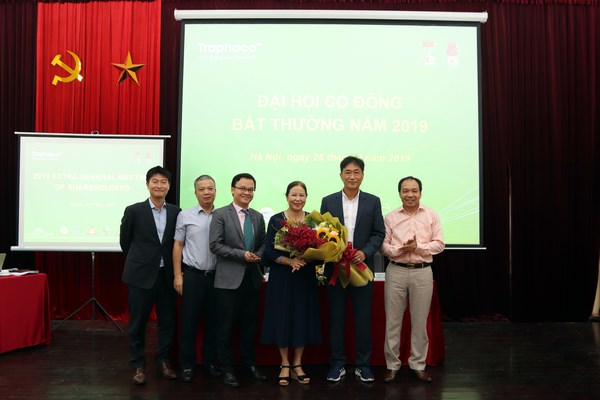 The Board members congratulates Mr. Ji Chang Won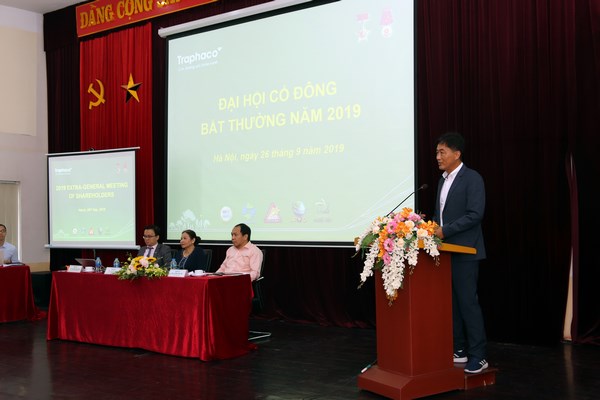 Mr. Ji Chang Won – Board member speaks at the meeting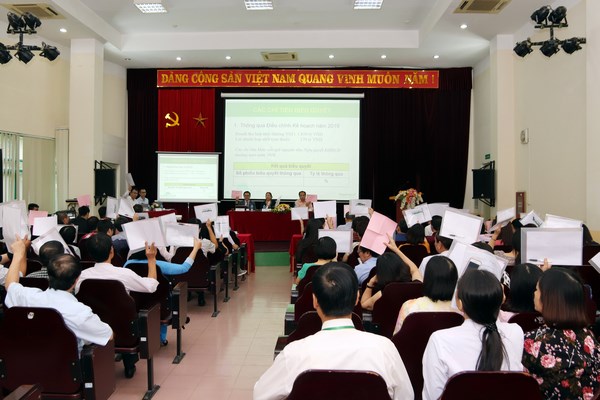 The extra General Meeting of Shareholders agrees and approves the adjustment targets of the Production and Business Plan in 2019